5 Benefits of Sulfate-Free Hair Products
Aug 22, 2022 | By Queenie
When it comes to cleaning products, sulfates are often a go-to. Cleaners, detergents, and shampoos contain these microplastics, as do many other products. The purpose of sulfates is to create a lathering effect to remove oil and dirt from your hair.
All hair products are not created equal. Some are made with chemicals that cause your hair to fall out, while others can cause dryness, damage, and inflammation. For a healthy scalp, look for sulfate-free products. Learn how to find a sulfate-free hair product that works well for you.
Importance of Using Sulfate-Free Hair Products
The natural structure of textured hair requires a large quantity of moisture to create its best shape. Sulfate shampoo can make curly or coiled hair dry, tangled, and frizzy.
Sulfate-free hair products have gentle cleansing effects on the hair. They can cleanse each strand of hair without removing natural oils, protectants, or color.
Benefits of Using a Sulfate-Free Shampoo
Although they aren't always harmful, sulfates can create hair and scalp issues over time. Switching to a sulfate-free shampoo is an excellent method to achieve healthier hair and scalp. Here are a few reasons why you should use hair products without sulfates:
Soothing on the hair
Sulfate-free products provide mild cleaning ingredients. Not only does it help your hair retain moisture, but it also brings out its natural shine. Using such a shampoo in conjunction with a conditioner can improve the sheen of your hair. They can cleanse each strand of hair without removing natural oils and protectants. Sulfate-free products are also recommended for people with color-treated hair to avoid further damage.
Healthy for the Scalp
Those with sensitive scalps understand how the wrong hair products may worsen a damaged hair condition. Sulfates can hurt the scalp since they are strong substances. If left unchecked, this might potentially lead to inflammation.
On the other hand, all natural hair products are gentle and clean your hair softly without causing such issues. Even better if they contain Aloe vera, which aids in the relief of irritation/inflammation. One of the numerous advantages of sulfate-free shampoo is that it is gentle on sensitive scalps and will not aggravate any existing dryness or itching.
Longer lasting Hair Color
Unfortunately, sulfates may cause problems in a variety of hair types. Shampoos made with sulfates may affect your color, leaving it dull and fading if you have colored-treated hair. If you use a sulfate-containing shampoo, cleaning your hair shortly after a color session can be disastrous. They can cause permanent color and toners to fade, resulting in dull or brassy hair.
Because sulfate-free products does not remove hair color, it will remain vivid and fresh after each wash. Look for substances like oat oil, which can provide twice the protection you need to keep your new color. Sulfate-free moisturizing shampoos help seal moisture and keep colored hair smooth, soft, and manageable.
Repairs Hair Damage
Washing damaged and brittle hair may be a difficult task. You're torn between not washing it too much to avoid worsening the problem and on the other hand; you don't want it to look greasy and neglected. You may gently cleanse your hair with a natural shampoo without causing more harm.
Has your hair been chemically treated in the past? Try a sulfate-free shampoo to revitalize it! It helps your hair keep its natural hydration, preventing it from losing its natural shine and smoothness.
Environment-friendly
Sulfate shampoos are not only bad for your scalp and skin, but they are also bad for the environment. Chemicals that are flushed down the drain might pollute the water. Instead, sulfate-free shampoos are manufactured from plant-based components that are healthy for you and the environment. By switching to an all-natural hair product, you're helping save the environment!
Sulfate-Free Gray Hair Treatment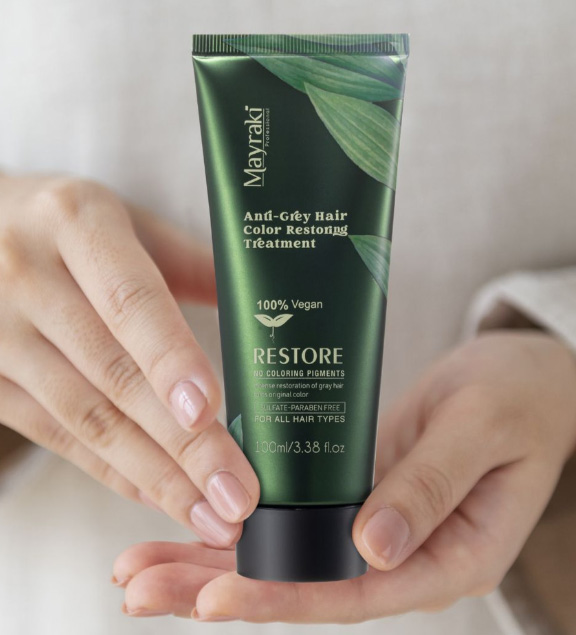 The Mayraki Anti-Gray Hair Color Restoring Treatment harnesses the power of cutting-edge hair care technology to return gray or white hair to its natural color while also nourishing it from the inside.
The sulfate-free, paraben-free, and vegan recipe guarantees that the hair and scalp are not irritated. It restores the hair's natural color without using dyes or pigments—a non-irritating, long-lasting alternative to artificial root cover-ups.
Benefits of Using Mayraki Anti-Gray Hair Coloring Restoring treatment:
It helps to rejuvenate hair cells.
Promotes the stimulation of blood circulation.
Re-pigments the hair root to tip to boost melanin production.
Conclusion
The main downside of sulfate-containing products is that they may be too effective at cleaning. Sulfates can strip oil and dirt away from the hair, leaving it dry and unhealthy. Additionally, they may cause the scalp to become dry and more prone to irritation. People with sensitive skin and hair may experience adverse effects such as irritation, dryness, and damage to their hair from using shampoos containing sulfates. It's best to look for a natural hair product that helps you achieve healthy hair.
Your locks must retain their natural moisture and oils to stay healthy. Sulfate-free products protect the natural oils on the scalp and hair, leaving your hair moisturized.

Among the various alternatives for keeping your hair healthy and luscious, Mayraki natural hair products are a top choice. It's a paraben-free and, more significantly, a sulfate-free hair product that restores your hair color without any irritating elements that might harm your hair and scalp!