Fresh 2021 Hair Color Trends to Try Out
Jul 14, 2022 | By Maria Eliza Pineda
Looking for new and unique hair colors to try out in 2021? We've got it for you! Here are some fresh 2021 hair color trends that you should absolutely try for yourself – as worn by Stella
Coloring hair is now practically everyone's favorite pastime ever since we've all been spending a bit too much time at home. Just like the viral dalgona coffee that everyone was making at the start of lockdown, coloring hair is something that we've all done at least once during 2020. And if you haven't yet, why not try something new?
Now that 2021 is here, it's time to try out some hair colors that are unique, fun, and super cool! No one does DIY hair color better than legendary hair vlogger Stella Cini. She's tried just about every hair color you can think of and she does it all herself! She's not afraid to mix colors together and create different combinations in her hair for an absolutely stunning one-of-a-kind look.
Tired of all the same hair colors that everyone has tried? We've compiled Stella Cini's most unique and gorgeous hair colors that you can try for yourself as well as video instructions on how exactly she does it. These hair colors are easy to do, utterly beautiful, and super fresh for 2021.
Royal Blue Highlights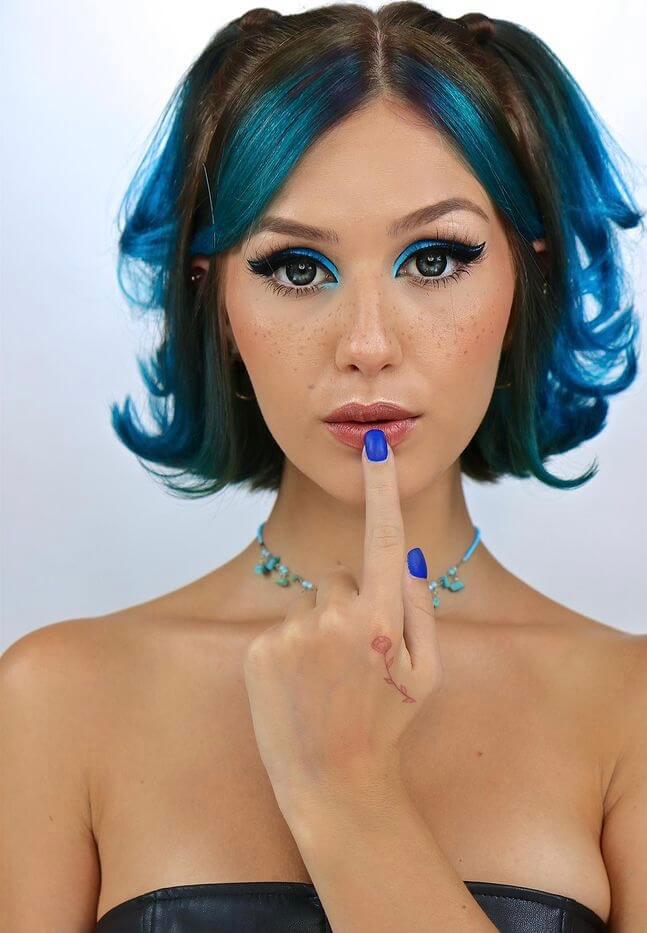 Give this classic, vibrant hair color an unexpected twist by alternating it into a few pieces of your hair rather than saturating your whole hair with it. Color your hair in a balayage/highlighted style to give your hair some depth and life. Keep your roots as is and cover the front pieces of your hair as well as alternating pieces around the ends. Make sure to alternate to achieve the balayage effect!
Check out how Stella Cini did this hair color here.
Hot Pink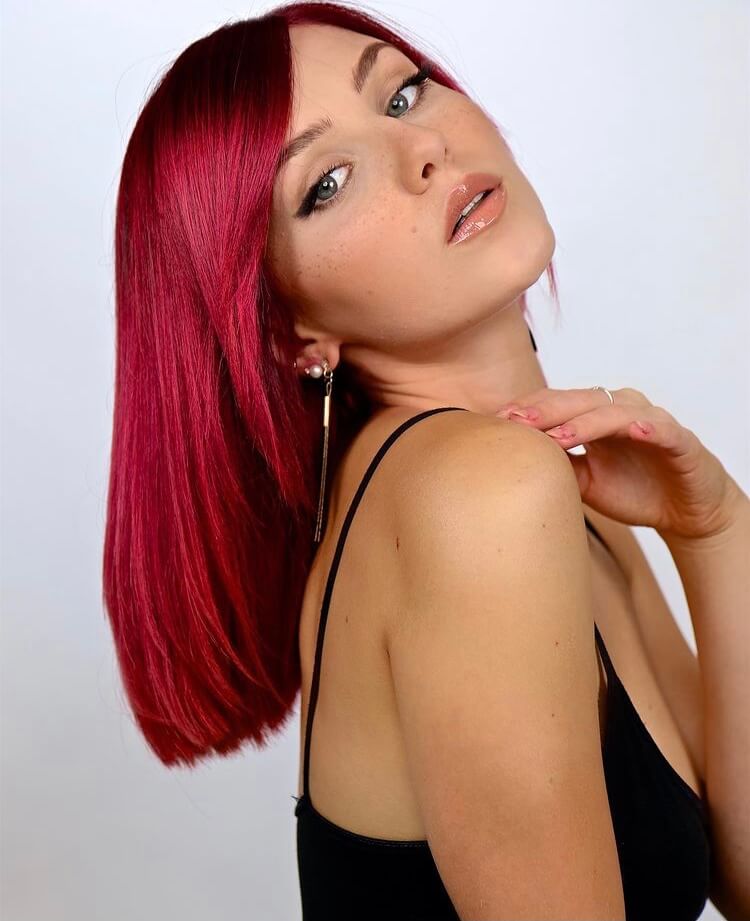 Hot pink is definitely one of the most popular fun hair colors so much so that maybe you've even done it once or twice before. But here is a version of it that looks sophisticated and absolutely gorgeous. This hot pink is a darker variety and borderlines a magenta color. To create even more depth with it, keep your roots a darker color like dark brown (or your natural color!). This gives a stunning effect and it'll make grow out much less high maintenance.
Check out how Stella Cini did this hair color here.
Emerald Green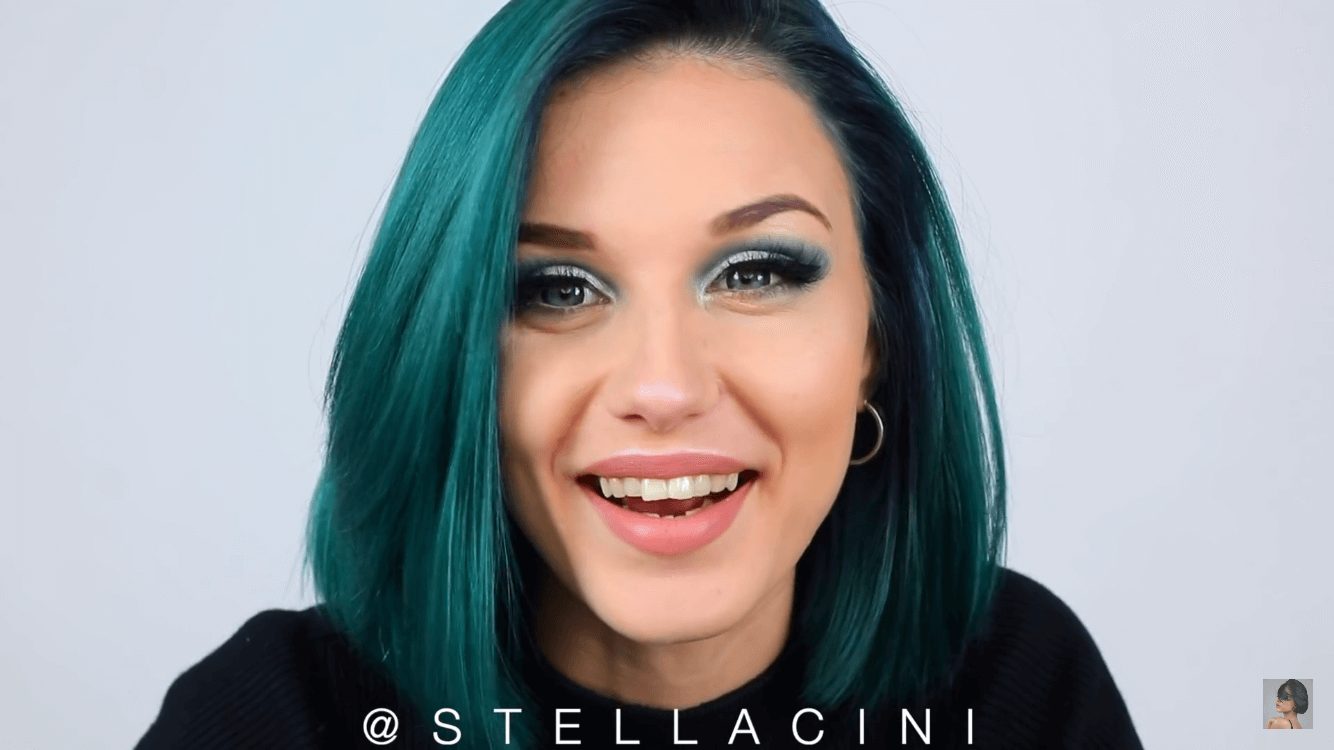 Emerald green is a truly unique and hard to achieve hue when it comes to hair color. In fact, Stella herself did not get it right the first few times she tried. This color is extremely rich, vivid, and the perfect shade of green with a slight tinge of blue. It's very specific which is why it's difficult to achieve. However, on her 3rd try, she finally got it right by mixing a green semi-permanent hair color with a tiny bit of an aquamarine semi-permanent hair color. Because it is a custom hair color that's very finicky to attain, once you do get that perfect emerald green color, you'll be sure to stand out amongst the crowd.
Check out how she did this hair color here.
Purple to Lavender Root Dye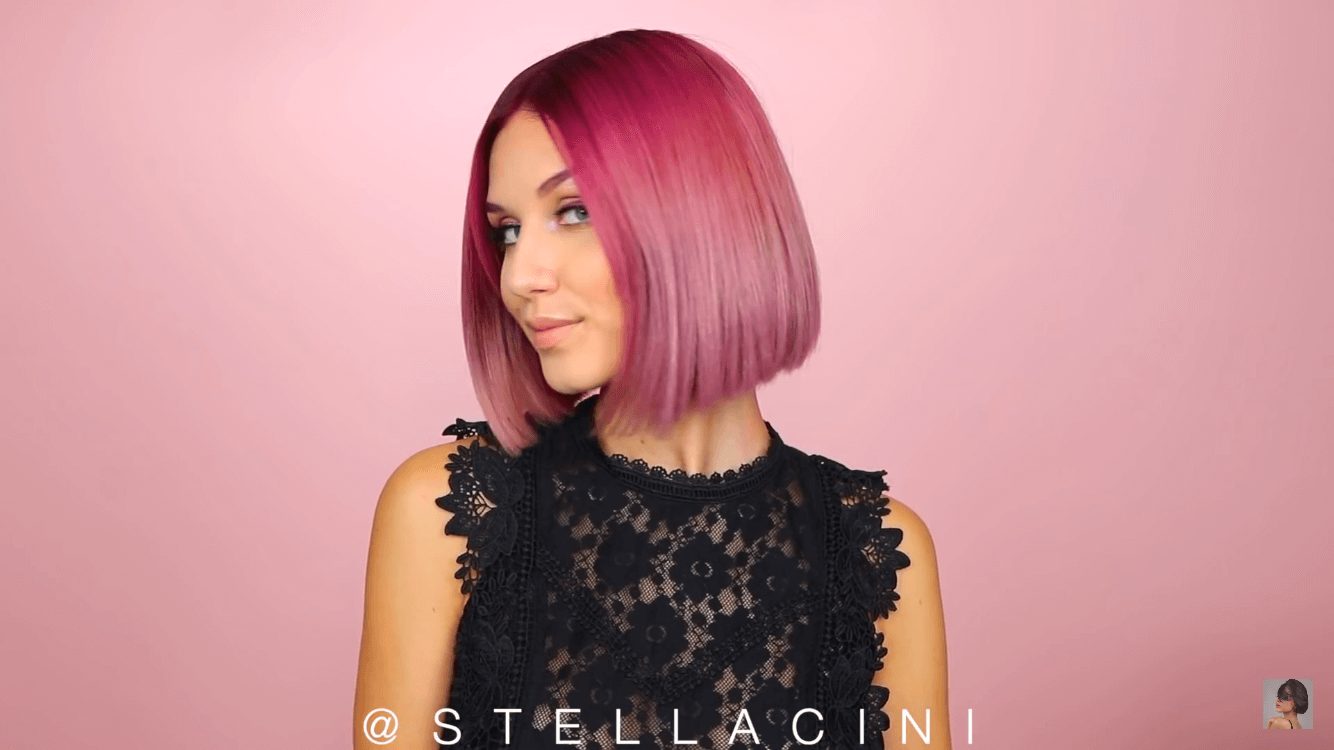 Root dyes are one of the hottest hair color trends at the moment. Probably the most well-known celebrity rocking this trend right now is none other than Billie Eilish with her drastic neon green roots to black hair. You can practically put any color combination on your roots and ends to experiment with this look. If you want a more subtle approach than what Billie does but still have a bit of fun with color, try out this purple to lavender root dye that Stella Cini did. Her roots are a majestic royal purple that fades into a soft lavender as it gets to the ends.
Check out how she did this hair color here.
Purple, Pink, and Blue Medley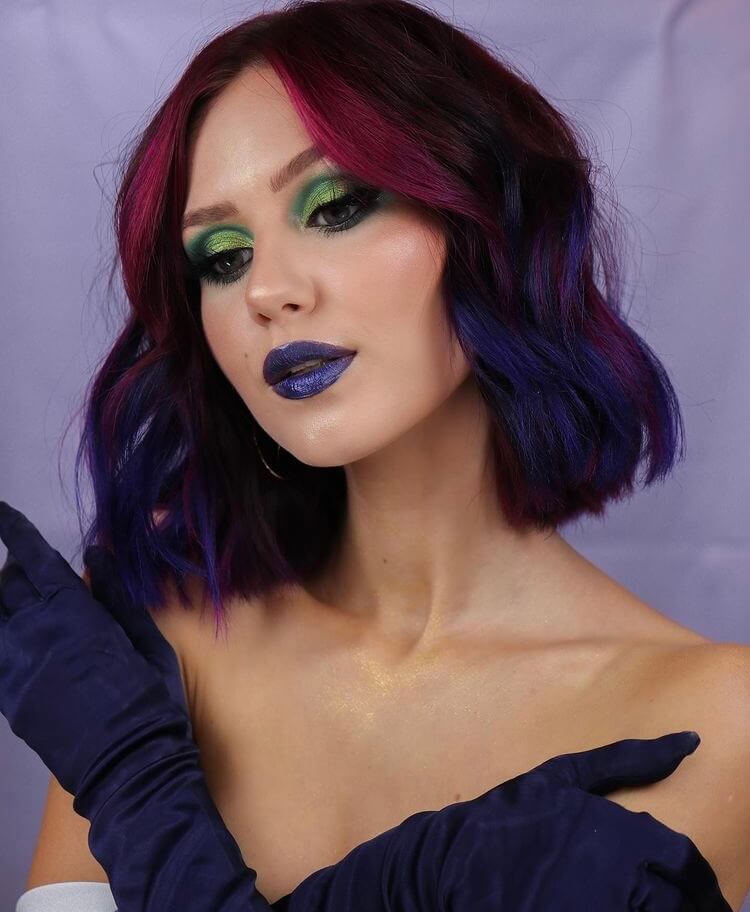 Absolutely obsessed with the color purple? Why not make your hair all kinds of different shades of purple? Instead of having one solid purple color, Stella combined pinks, purples, and blues in her hair in different sections to create a medley of rich purple strands. It's reminiscent of a dark nebula, or a dusky sky. Another super unique color that's sure to turn heads.
Check out how she did this hair color here.
Galaxy Sunset Colors Orange, Pink, and Purple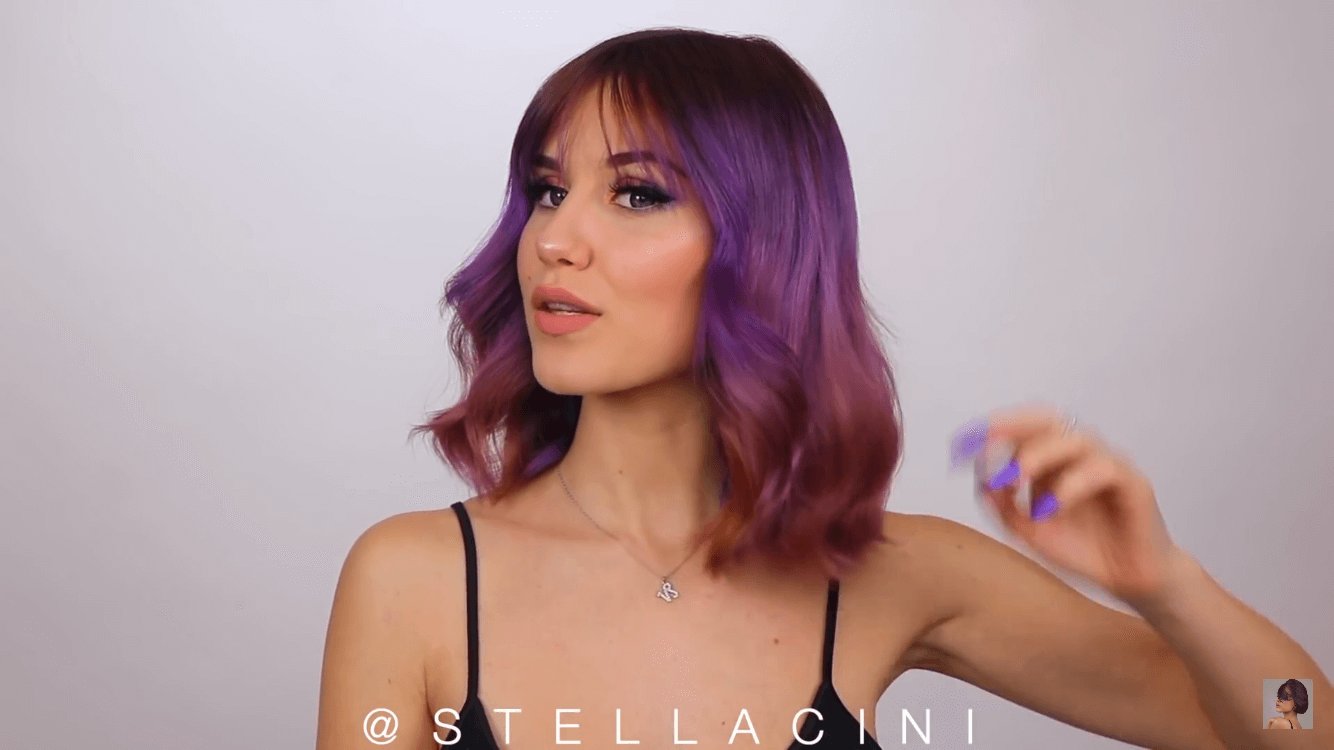 Did somebody say galaxy? Now, we all know the galaxy craze that hit back in 2014 where practically everything and everyone had a galaxy color palette and design. This hair color pays a little bit of an homage to that galaxy color palette without being too on the nose. This version utilizes galaxy colors along with yellows and oranges to create a galaxy sunset color palette. This color combo is completely unique and a softer version of these otherwise deep and vivid colors. You might even start a whole new trend amongst your peers.
Check out how she did this hair color here.
Fiery Red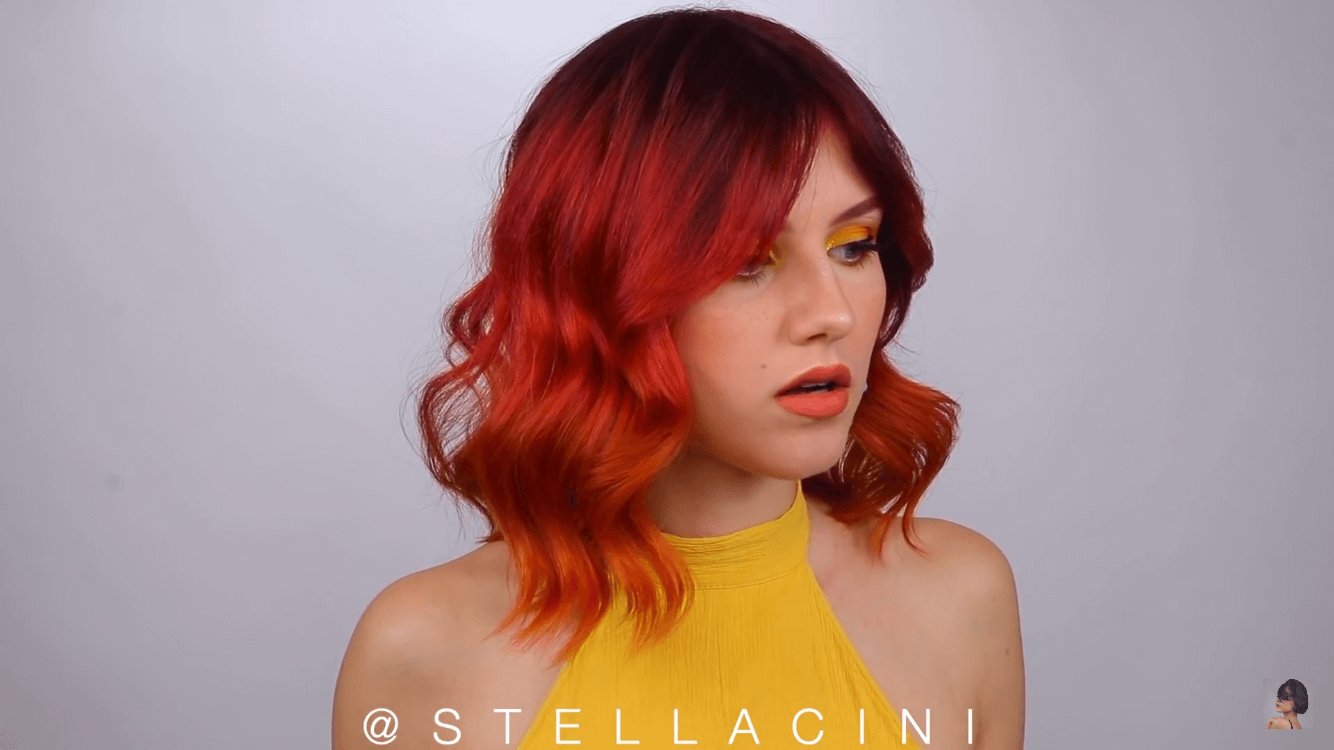 If you're tired of soft colors and sweet looks and want to go for something a bit more vibrant and in-your-face, then this fiery red ombre is perfect for you. This isn't just your typical red color. Inspired by the actual hues in a flame, Stella uses different shades of red, magenta, orange, and yellow to achieve this look. This gives the hair incredible nuances and gives the illusion of an actual fiery red flame. This is an amazing look to rock for the summer and pair with vibrant outfits.
Check out how she did this hair color here.
A New 2021 Hair Color? Yes, Please!
Wonderful and unique hairspiration is easy to find. There are tons of professionally done hair coloring jobs out there that will make you drool. But how many out there are actually achievable and can be done easily at home? Turns out, you can do a lot at home! As evidenced by the lovely Stella Cini, if you want to experiment with hair color at home, it can totally be done safely and turn out amazing.
Don't forget to nourish your hair while you're at it with color-safe treatments such as the Mayraki Hydrolyzed Keratin Instant Smoother System to keep it shiny and healthy. What are you waiting for? Pick out your new 2021 hair color from this list and start that hair painting!