7 Best 2021 Hairstyles to Try Out
Jul 07, 2022 | By Maria Eliza Pineda
Are you itching to try out a new hairstyle for 2021? It's not too late to change up your look! Here are the best 2021 hairstyles to try out that will freshen up your vibe.
Coming off 2020, experimenting with hair trends, doing DIY hair projects, and pretty much just doing things to hair has become a huge pastime for many. A lot of people are still probably rocking some sort of hair change or experiment they did while in quarantine and are looking to do something new. Or if you're one of the people who just kept your hair healthy and growing, you might be looking for a fresh new look this 2021.
There are a ton of hair styles that you can choose from, so it's no wonder that it might get a little confusing or overwhelming. You might not even be quite that decided if you're going to change anything yet! But if you're seeing this, take this as a sign to try something new and have fun with it.
If you're having a hard time picking out your new look, never fear! We're here to help you out. We've narrowed down the 7 hottest and best 2021 hairstyles that you can try this New Year. Everything from a subtle, low commitment change to something drastic and exciting. Read on to choose your new 'do!
Curtain Bangs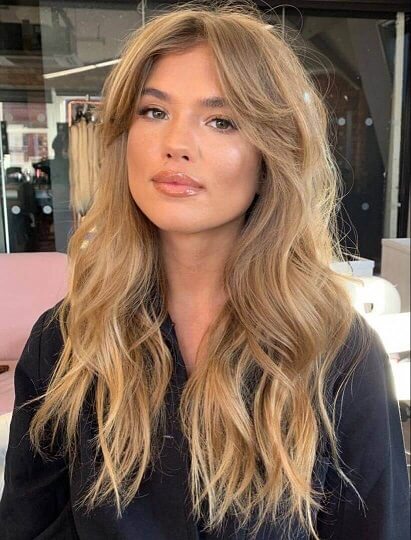 Photo: Pinterest
Curtain bags are probably the hottest hairstyle trend right now. This style was super popular in the '70s and it has just made a comeback in a huge way! Models and celebrities are recreating and modernizing this style for a glamorous and yet effortless look.
People absolutely love this hairstyle because it frames the face so well and it is very low commitment. Unlike normal bangs that take a while to grow out and have major awkward stages, curtain bangs are pretty easy and low maintenance. They're a subtle but fabulous change that just blends seamlessly into your hair while still framing your face nicely.
Shower Bangs
Photo: Pinterest
Shower bangs are just a step up from curtain bangs in terms of commitment. While curtain bangs are basically cast off to the sides to frame the face, shower bangs have a few strands that barely cover the forehead and act as a light "shower" of bangs.
This is a great style to try out if you want just a little bit more of a change than doing curtain bangs but aren't into a full, heavy bang to fully cover a part of your face. This 'do gives off a soft and youthful vibe and will still blend in seamlessly into your hair once it starts to grow out. Still fairly low commitment, but a more noticeable change.
Full Bangs
Photo: Pinterest
A full bangs is just one of those hairstyles that we've all probably tried out at one point in our lives. It's either one extreme or the other: you either loved it and think it looked amazing on you or you thought it was horrible and completely regretted it and started growing it out immediately once you did it. If you're one of the lucky former and full bangs were totally your jam, then it might be time to revisit this style!
A full bang can be an incredibly chic but still sweet look. The full bangs that completely cover the forehead gives off a modern, powerful vibe while still looking very soft and doll-like. This is a fairly high commitment 'do that can take a while to grow out, but once you start rocking it, you will surely be a standout.
The Big Chop
Photo: Pinterest
Hair can become a safety feature for a lot of people. We can find a lot of comfort being able to style longer hair and hiding behind this safety curtain. However, there are times when you need to just shed that outer shell and be confident in your own skin. Getting a big chop is one of the best ways you can do that.
A big chop suits any and every hair texture. If you have curly or coily hair, this is a great style for you to just wear your hair in all its natural glory and lay off all the heat or chemical styling. For those who have never gone super short before, it can be scary to lose so much hair. But once you commit to it, it can be a very liberating experience that can boost your confidence in a big way.
Chic Pixie
Photo: Pinterest
When you think of a pixie cut, what usually comes to mind is a super sleek, close-cut silhouette with a longer piece at the front in some cases. However, a pixie cut has come a long way from that and there are a ton of ways that you can rock it.
Pixie cuts can go from super closely shaved to somewhere in the middle to a longer, shaggy pixie. Sleek cuts can really emphasize your bone structure and give you a chic but cute look. Pixie cuts with longer pieces can be edgy and sexy. While longer, shaggier pixie cuts will give you more of an effortless and natural vibe.
A Modern Shaggy Cut
Photo: Pinterest
A shag cut might sound a little crazy because the first thing you'll think of is those shaggy haircuts from the 70s and 80s that might not be your cup of tea. However, this cut has also been modernized and has become completely wearable again. Celebrities like Taylor Swift and Nina Dobrev are now rocking this modernized vintage 'do.
The modern version consists of more subtle-looking layers that blend into the hair more seamlessly than its 70s counterpart. This style can look amazing if you have naturally wavy hair as it can emphasize your waves and make the hair look more voluminous. This is also great for those who have thinner hair and want the illusion of thicker, fuller locks as the layers will add volume and depth to the hair.
Straight Cut
Photo: Pinterest
Straight cuts are making a huge comeback in recent years after the layered cuts craze. Layering has been a popular technique in cutting hair for a good long while now because of the depth it gives the hair. However, straight cuts are a great option for those who want to change up their look without losing too much length.
A straight cut can look quite sophisticated but fun depending on how you style it. It's a versatile look that looks good straight, wavy, or curly. This is also a great style for people who have naturally thinner ends. People with thinner ends tend to get a scraggly look with layers. This can be remedied by getting a straight cut that will make the ends look much fuller and make your hair look healthier.
A Fresh Look for 2021
We are early into 2021 and it is the perfect time to create a new, fresh look for yourself. If you have absolutely fallen in love with any of the hairstyles we've mentioned here, take that as a sign to just take the leap and change up the style of your hair!