7 Tips on How to Restore Grey Hair Naturally
Aug 22, 2022 | By Queenie
Greying hair can sometimes be a nightmare for some people. Your hair will naturally turn grey or white with age. If premature graying occurs, your diet may lack nutrients, stress, or genetics.
There's no reason to feel bad about wanting to hide your grey hair, but a trip to the salon could be unnecessary. There are plenty of ways to restore grey hair naturally, from doing homemade remedies to using a product with natural ingredients. But first, let us know why it is essential to look for natural remedies instead of synthetic chemicals.
Importance of Using Natural Remedies for Grey Hair
You use hair care and styling products almost every day. But do you know if it's safe for you and your hair? Most of the hair care products that are available on the market contain synthetic chemicals that can potentially harm your hair. Chemicals can cause scalp irritation, damaged hair and even hair loss in the long run.
This is why we have listed natural remedies for grey hair problems. Read on to find out which treatment works best for you!
7 Natural Remedies for Grey Hair
Not sure which remedy will work? We came up with a list of natural treatments you can try to restore grey hair naturally.
Applying Rosemary as Hair Oil
Rosemary is a fragrant evergreen herb usually used as a culinary condiment. But, you can use it for your hair since it is essential in hair care treatment. It prevents graying and darkens the hair that has already turned gray.
To apply rosemary as hair oil, mix several drops of rosemary oil with either coconut or olive oil and leave it for two hours before shampooing. You can use this natural remedy once or twice a week before bed.
Drinking Wheatgrass Juice
A proper diet might be your solution to premature graying. Wheatgrass is a powerful cleansing and detoxifying agent. It has been found that regular consumption of wheatgrass reverses your grey hair to its natural color. Are you looking for a healthy substitute for your store-bought juice? Wheatgrass juice is the perfect drink for you!
To make this delightful drink, you only need to:
Step 1: Soak the wheatgrass in clear water for 15-20 minutes.
Step 2: Blend or juice the wheatgrass with ½ cup of cold water.
Step 3: Strain the dark green juice using a sieve and drink immediately.
Making a Hair Mask Out of Curry Leaves
Curry leaves are a staple ingredient in cooking. But did you know it also has benefits for the hair? It is believed to include darkening agents, antioxidants, and vitamin B complex, which can help restore your hair's natural hue and naturally darken grey hair.
To prepare this hair mask, you must:
Step 1: Mix ¼ cup of curry leaves and ½ cup of yogurt till it becomes a paste.
Step 2: Gently massage hair and scalp for 30-45 minutes.
Step 3: Shampoo and rinse thoroughly.
Adding Coconut Oil to Your Hair Care Routine
Believe it or not, coconut oil has many more benefits besides not making your hair dry and frizzy. It also prevents premature graying of hair. There are two ways to use this as a natural remedy for grey hair. First, you can rub the coconut oil on your locks before or after washing. Another method is to mix the oil with lemon and rub it on your hair. Easy as pie, right?
Eating Blackstrap Molasses
Blackstrap molasses is the secret ingredient in barbecue sauce and baked beans, but did you know it is also beneficial for your hair? The anti-aging antioxidants in blackstrap molasses work from the inside out to soften hair, reduce hair loss, and most especially, reduce the graying of hair. All you need to do for this natural remedy is eat a teaspoon of blackstrap molasses.
Taking the Ginger and Honey Combination
Ginger is found in every kitchen. Did you know it helps your hair? Yes! This root herb improves hair development and scalp health since it's packed with vitamins and minerals. By improving scalp circulation and strengthening hair follicles, it's a natural remedy for aging hair. Ginger is another natural remedy for grey hair that is so easy to apply. All you need to do is eat a teaspoon of freshly grated ginger mixed with one tablespoon of honey, and voila! You have your grey hair treatment ready.
Using Mayraki Anti Grey Restoring Treatment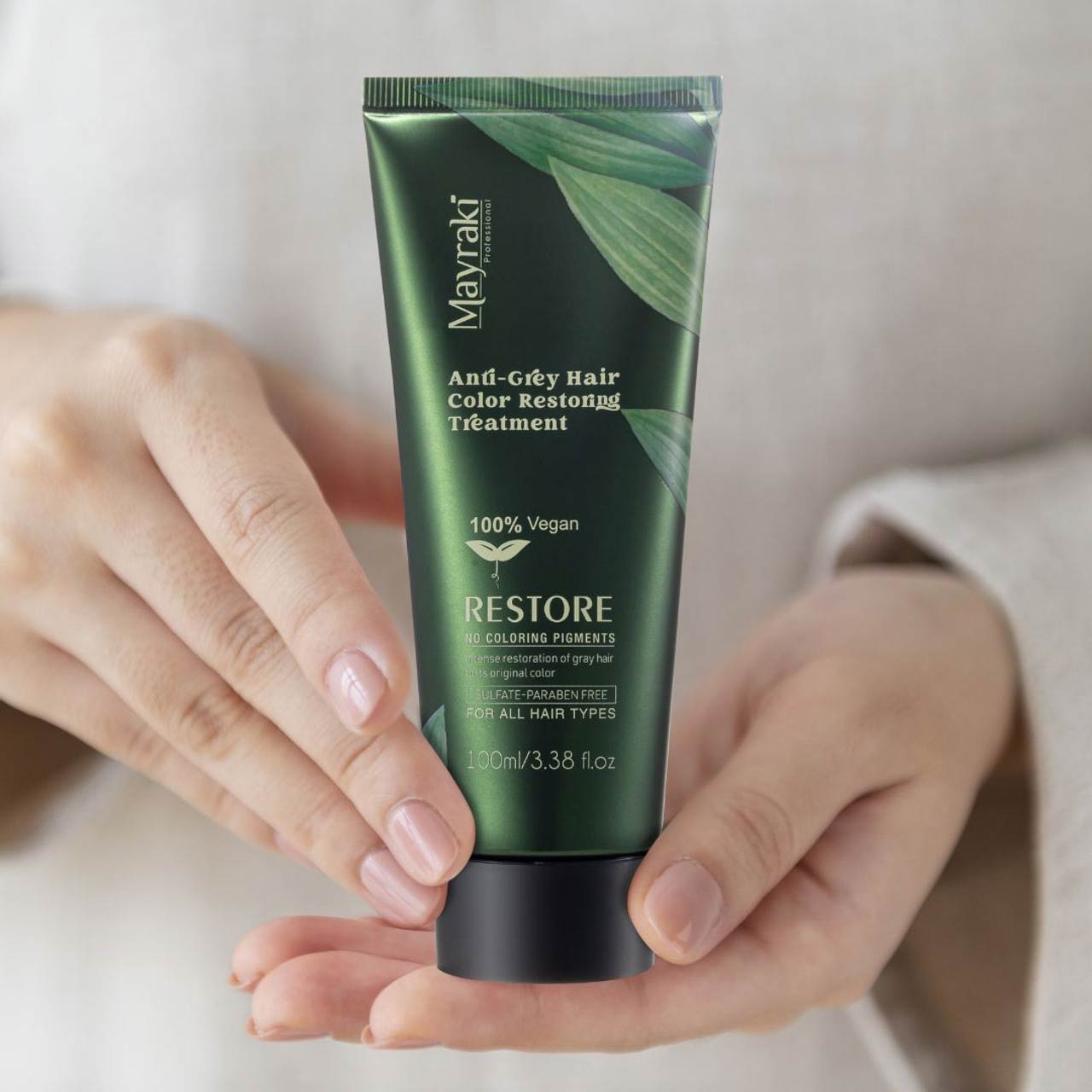 Are you weary of determining which natural remedies for grey hair work best? Have no fear; we have you covered! This anti-grey therapy is natural and contains only vegan components, such as castor oil, biota leaf extract, and wheat protein. It increases the generation of melanin and stimulates the natural coloring of hair during regrowth. This product utilizes cutting-edge hair care technology to return grey hair to its natural color and nurture it from the inside out.
You have two options for using this natural anti-grey restoring treatment.
Option 1: Shampoo, wash, and towel dry after washing hair.
Option 2: Without washing hair.
Apply a few Anti-grey Hair Color Restoring Treatment pumps to your hand before applying. Massage your scalp with your fingertips and evenly distribute the treatment into your hair roots. It does not require rinsing. Blow dry or style normally. It's definitely something you can do by yourself easily!
Conclusion
You can quickly learn how to restore grey hair naturally at home. The onset of grey hair is one of the most dreaded issues for individuals entering their 30s. You may disagree, but no one considers grey hair unless they have it themselves. But worry no more! You have many options to help you eliminate or reduce your grey hair, from natural home remedies to natural products. Mayraki Anti Grey Restoring Treatment is a natural and vegan product that can effectively restore your hair color naturally.