Product Details
Say Goodbye to Hair Loss Anxiety: Transform Your Hair with Mayraki's Hair Growth Serum Intense
Best Formulated Copper Peptide Complex with Natural Ingredients for Fast and Effective Results ...
—— Mayraki Featured In ——






Say Goodbye to Hair Loss Anxiety: Transform Your Hair with Mayraki's Hair Growth Serum Intense
"My hubby, who never notices when I cut my hair.....
My hair is thicker, longer, and so soft. I've only been using it for a month and both my mom and even my hubby said, "Your hair is so long!"...
Hair growth products are aplenty in the market, but not all products are effective and safe for you. To achieve a full, luscious head of hair, a high quality hair product that targets stimulate hair follicles, promote healthy hair growth, and improve overall hair well-being. Good thing, an intense hair growth serum is well developed
- It infused with highest concentrated copper peptides;
- Peptides and other natural ingredients that work closely together to maximize hair growth and minimize hair fall.
It is the Mayraki Natural Hair Growth Serum Intense from Mayraki Professional. This amazing hair growth product underwent clinical study and trials.
Mayraki Natural Hair Growth Serum Intense is expertly formulated to provide an effective and quick solution for those suffering from excessive hair loss and hair thinning. Designed to visibly thicken and strengthen your locks to prevent hair loss and encourage outstanding new hair regrowth using our Specific Copper Peptide Complex combined with the power of all-natural and botanical extracts proven to give you fast and effective results and make it as a natural hair growth serum that actually works.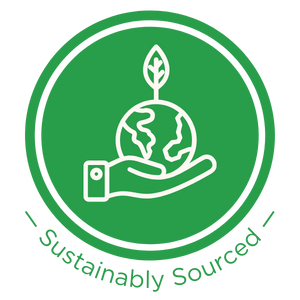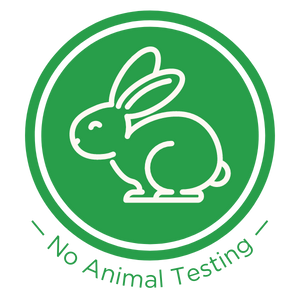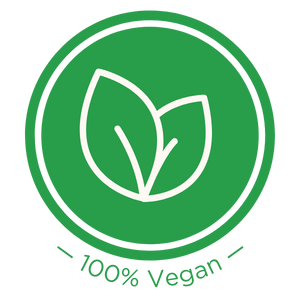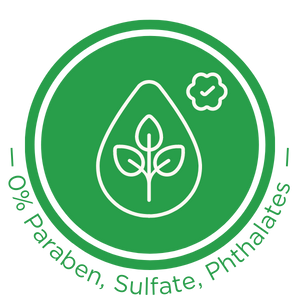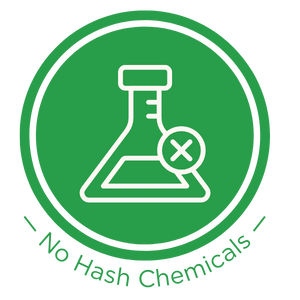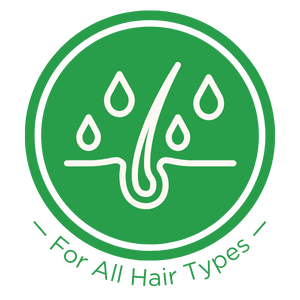 🌿When Does Hair Loss Begin?
❎ For women, the first noticeable sign of hair loss is often a widening part or less fullness to their ponytail.
❎ For men, hair often begins to recede at the hairline on the forehead.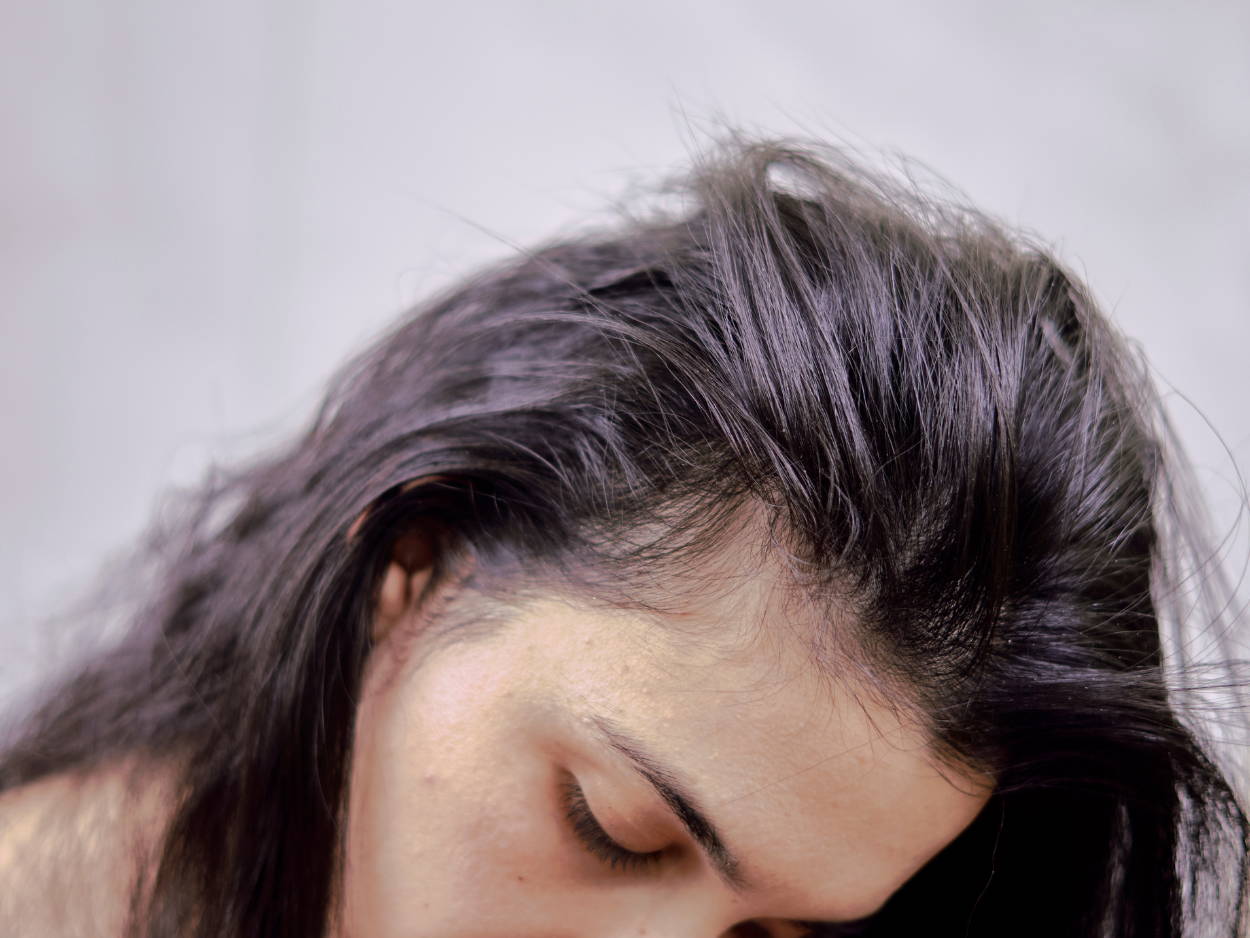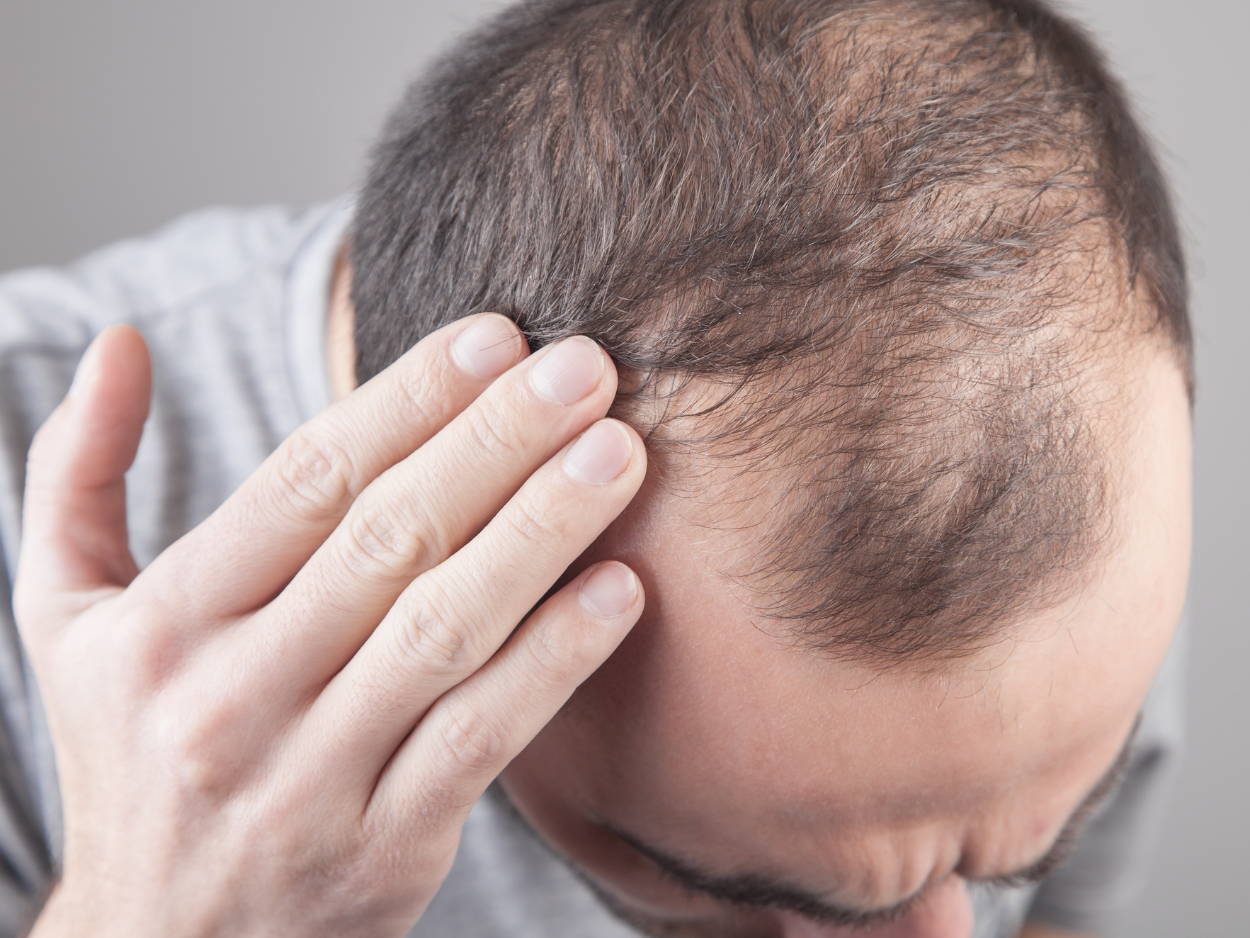 IT'S FOR YOU IF YOU ARE NOTICING...
❎ Gradual thinning of the hair on your head
❎ Bald spot that grows slowly
❎ Receding hairline that becomes more visible with each passing year
❎ Widening part
❎ Difficulty styling hair due to hair thinning
❎ Allergic to other hair serum
🌿It's For You. And Only You.
And The Goals that you want to achieve ...
Say goodbye to bad hair days and hello to the confidence that comes with having a full, luscious head of hair. Mayraki Hair Growth Serum Intense is designed to stimulate hair follicles, promote healthy hair growth, and improve overall hair quality. With regular use, you can expect to see fuller, thicker, and stronger hair that's easier to manage and style.
By applying directly to your scalp, the highest concentrated copper peptides is able to speed up the hair growth process and achieve fuller, thicker hair.
Soothe and hydrate your scalp, it helps to reduce itching and dryness.
By strengthening hair follicles and promoting healthy hair growth, you can achieve a fuller head of hair with more volume and thickness.
With its easy-to-use dropper bottle, you can apply directly to your scalp for maximum effectiveness.
For faster, thicker, and stronger hair growth. Achieve stronger, smoother, and shinier hair
in 2- 3 weeks.
Fast acing in as soon as 1-2 months and long term results without any side effect.
There's nothing like Matter of Fact. Seeing is believing. We asked our customers to share their results on the benefits of using Mayraki's Hair Growth Serum Intense with Copper Peptide GHK-Cu to improve thinning hair, hair loss, or slow hair growth and overall hair wellbeing. Mayraki formulas are designed to support stimulate hair follicles, promote healthy hair growth, and improve overall hair quality. Formulated with ingredients clinically shown in some subjects to: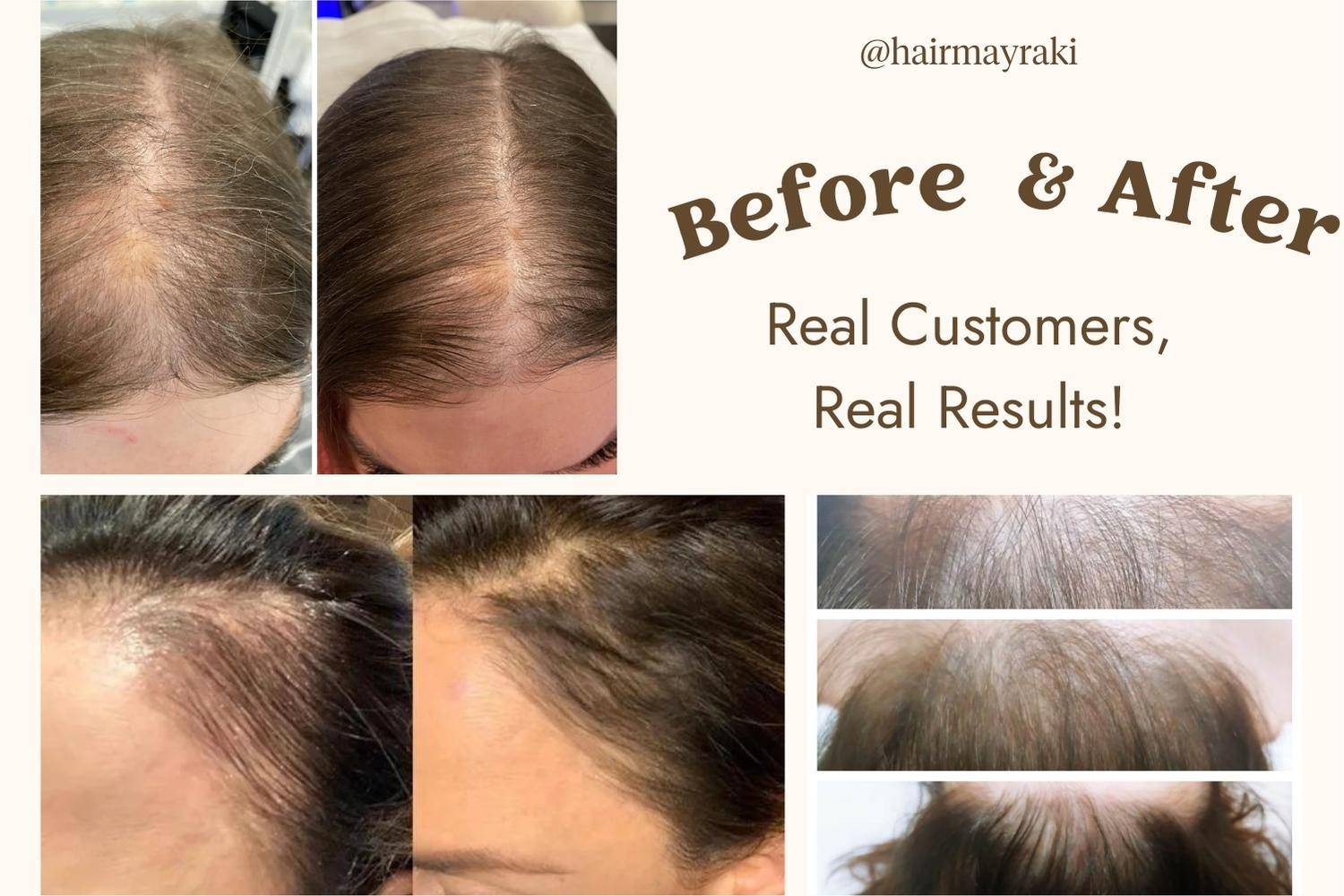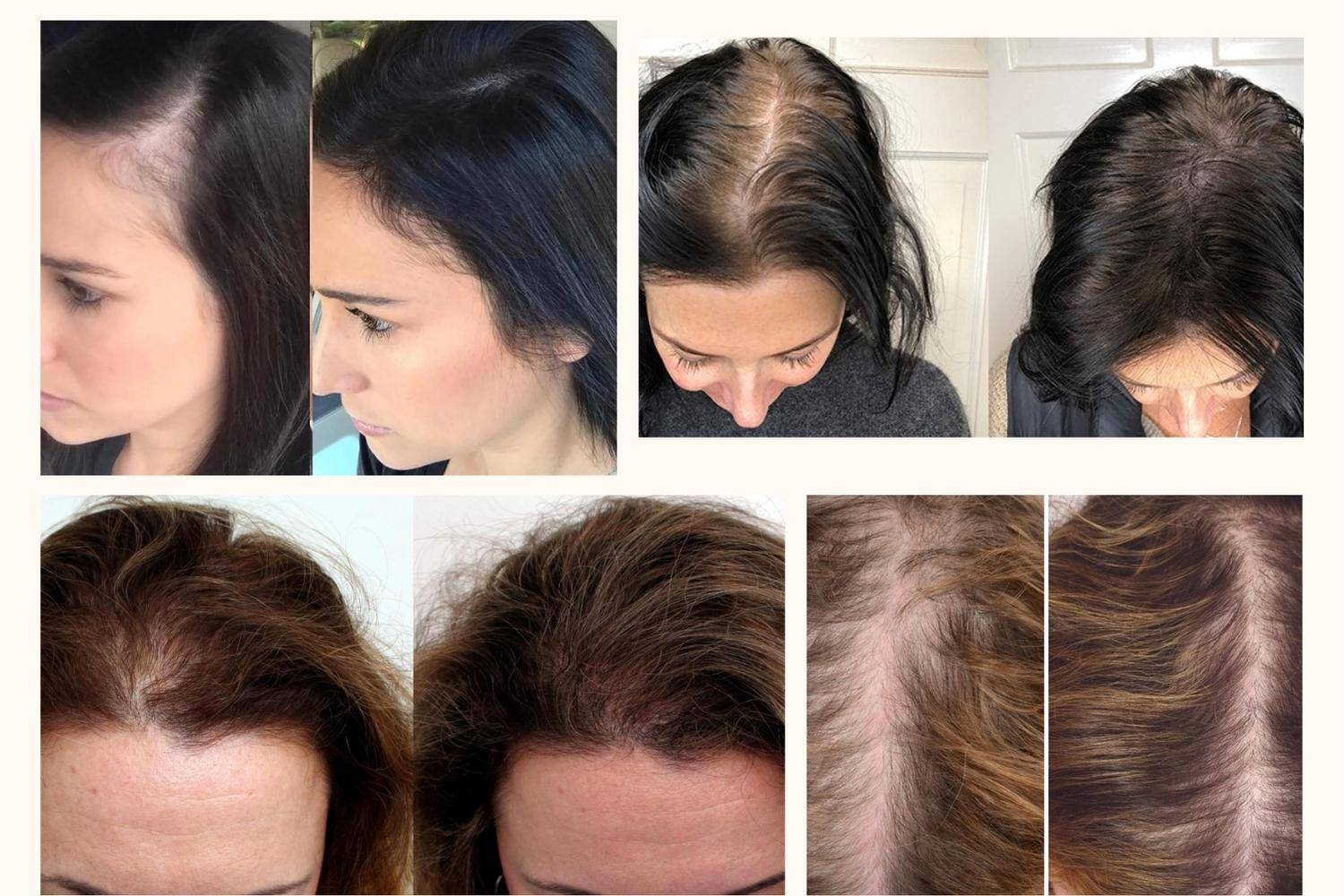 Reported strengthened hair follicles after using Mayraki Hair Growth Serum Intense for 1 month or longer*
Stop using other hair growth treatment that contains Minoxidil after the treatment*
Noticed baby hair growth around hair line in 4 weeks. Worked better than expectations*
Reduce hair growth for more than 70%*
Studies have shown that the ingredient Copper peptide GHK-Cu, more commonly known as copper peptides, has a significant role in boosting hair growth. Since its discovery back in 1973, it's been a popular ingredient amongst hair and skin products because of all its regenerative benefits. Copper peptides are naturally produced by our bodies, but as we age, the amount that we have is significantly reduced.
The administration of copper-peptides increases hair follicle size and the rate of hair growth caused due to it's causing blood flow changes that provide adequate nutrients to the follicle, producing faster growing hair with thicker hair shafts. Copper ion complexed with certain peptides has both skin repair and hair growth enhancement effects.

Image 1. Hair follicle before remodeling signaled by GHK-Cu(Copper Peptide).
Image 2. The remodeling signal by GHK-Cu(Copper Peptide) increases the size of the hair follicles.
Image 3. The enlarged hair follicle begins to produce new skin cells that migrate into the surrounding skin and rebuild the skin after usw of GHK-Cu(Copper Peptide).
Copper Peptide GHK-Cu. This helps with thickening and enlarging your hair follicles. It'll help your thinning hair, weak hair to get a boost of strength, and you can keep them around for longer, which means hair fall will reduce significantly. Copper peptides will reduce thinning and make your locks thick, shiny, and smooth.
✦ Copper Peptides Stimulate Hair Growth
✦ Copper Peptides Block DHT
Dihydrotestosterone or DHT is a hormone converted from testosterone with the help of an enzyme called 5-alpha reductase. DHT has been shown to prevent hair growth when high levels are present.
Copper peptides are 5-alpha reductase blockers. This means that the enzyme won't be able to convert the testosterone to DHT. Without the DHT damaging your hair follicles, triggering hair loss, and preventing new growth, your hair will be able to grow thicker.
✦ Copper Peptides Thicken and Enlarge Your Hair Follicles
Hair loss often occurs not only because of age or genetics but also because of poor hair health. If your follicles are brittle, damaged, and weak, your hair is more prone to breakage and falling out. When you have too many weak hair strands that fall out, your density will suffer, and you'll get significant thinning.
✦ Copper Peptides Initiate A Process That's Called Angiogenesis
This is where new blood vessels are formed from previous blood vessels. This stimulates the blood flow in your scalp thereby also increasing the amount of oxygen circulation. When you have good circulation in your scalp and you're getting an ample amount of oxygen, you're going to get more nutrients in your hair and stimulate hair growth.
✦ Copper Peptides Help With Circulation in Your Scalp
When your hair follicles are deprived and don't get enough oxygen, hair growth will be stunted. It's important to get the right amount of circulation so your follicles can grow well.
All of these ingredients are designed to work in harmony with our main ingredient Copper Peptide GHK-Cu to maximize and promote hair growth and prevent significant hair loss. Expertly formulated to visibly thicken hair and increase density in only 3 months.
| | |
| --- | --- |
| Ingredients | Benefit |
| Ginger Essence and botanical essential oil | Effectively encourages hair regrowth and promotes nutrient absorption in the scalp. Ginger essence contains antiseptic properties which relieve the scalp from dandruff and infections. It also assists in tackling hair loss problems from the roots. |
| | A potent treatment agent for hair growth stimulation. |
| | Platycladus orientalis is an ingredient used in traditional hair care. It's used to treat hair loss and baldness. This herb also has incredible hair growing properties in the way that it triggers the anagen phase of resting hair follicles. The anagen phase is the active growing period of hair follicles. The platycladus orientalis lengthens and revives this period. |
1. Begin with a 3-month treatment program, applying this natural hair growth serum twice a day for the first three months;
2. After the third month, apply once per day to maintain the treatment results;
3. Apply 1-2 drops onto a dry or damp scalp, working the serum through, section by section;
4. Gently massage in. Do not rinse off.
Aqua , Alcohol , Propylene Glycol, Silanediol Salicylate, Copper Tripeptide-1, Sophora Flavescens , Decarboxy Carnosine Hcl, PEG-40 Hydrogenated Castor Oil, Polyacrylate Crosspolymer-6, Phenoxyethanol , Benzyl Alcohol, Chlorphenesin , Menthyl Lactate, Triethanolamine , Disodium EDTA
Mayraki Hair Growth Serum Intense with Copper Peptide GHK-Cu - Hair growth serum for woman and man, hair growth oil, hair regrowth treatment, hair growth stimulator | 45 ml/1.52 fl. oz