Easy Holiday Hair Ideas for 2020
Jul 07, 2022 | By Maria Eliza Pineda
Looking for ways to make your hair look extra special for the holidays? Here are a few easy holiday hair ideas that look deceivingly hard but take minimal effort!
It's tradition to always get a little dressed up for the holiday season whether that's for your work or friend group Christmas parties, family reunions, or for Christmas eve itself! December is when people start breaking out the glittery eyeshadows and red lip to get into the spirit of festivity. It's just like decorating your house, but for your face.
Hair is also a big part of the festivities! Putting in a little more effort on your hair is a great way to express your creativity and festivity. There are a ton of mesmerizing videos on the internet of people creating all kinds of intricate hairstyles that would be perfect for the holiday season. However, some of them aren't exactly easy to do.
If you're like me and are a total noob at doing your hair but still want to do a little something extra with it during the holiday season, then you've come to the right place! Here is a little cheat sheet of easy holiday hair ideas that make it look like you've put in a lot of effort.
Milkmaid Braid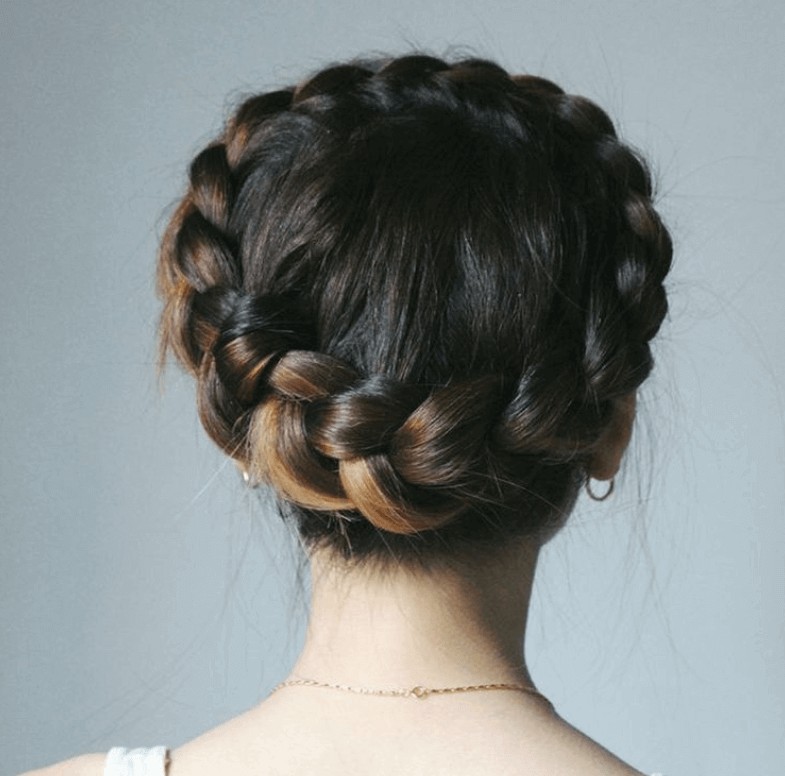 Photo from IG: @straight_ahead_beauty
A milkmaid braid is a really easy updo hairstyle that looks absolutely amazing paired with a red lip. This is a look that's super sweet and feminine. This goes great with a flowy dress or an outfit that just screams boho vibes. The best thing about this style is that you don't even really need to have good braiding skills to do it. If you know how to do a simple three-strand braid, then you're good to go!
How to do it:
1. Part your hair down the middle and section your strands into two in front of your shoulders.
2. Take one section and divide it into three parts and do a simple three-strand braid on each side to form pigtails. Tie it with a thin, invisible elastic band.
3. Take one of the pigtails and use some bobby pins to attach it to the top of your head. If you'd like some artfully placed tendrils hanging out, take out some hair from the front of your head first before pinning the braid on top. Adjust accordingly to your preference.
4. Take your remaining pigtail and pin it to the top of your head next to the one that you just did.
5. Tuck in the ends of your pigtails under the braids by pinning them with bobby pins.
Voila! You're done. You can leave it like this or you can add some cute bobbles or even spray glitter in your hair to look extra festive.
French Twist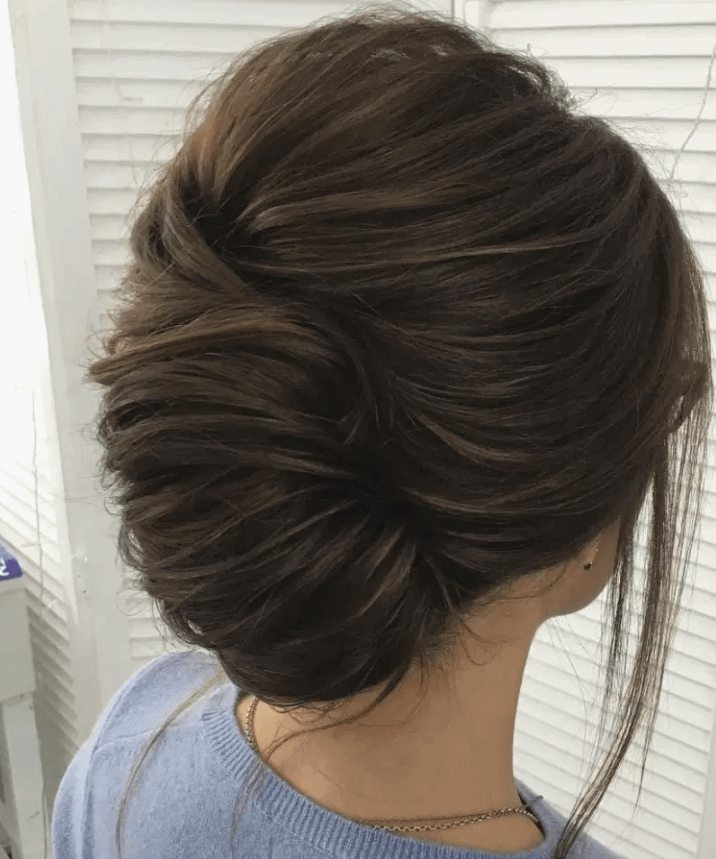 Photo from Pinterest
A French twist is another classic, elegant updo that looks deceptively complicated to do but is actually super easy and simple. No braiding skills are needed. Just twisting and bobby pinning! This hairstyle can definitely be paired with a "dressier" outfit such as a cocktail dress or even a suit. Even though it is simple, it looks super classy and sophisticated and can be either dressed up for a more formal outfit and dressed down in a messier fashion for a more casual outfit.
How to do it:
1. For this hairstyle, you can either choose to part your hair to the side or have no part at all (have it all pushed back). Depending on your preference, part your hair (or don't) as you desire.
2. Gather all of your hair into a low ponytail at the back of your head but don't tie it off just yet.
3. Twist all the hair in your "ponytail" in one direction.
4. Once you have your twist, pull it upright so that the ends of your twist is pointing upwards.
5. Carefully start sliding your twist downwards so that your hair incases your twist.
6. Now that you have your French twist in place, take a bunch of bobby pins and just start pinning your hair so that it stays securely in place.
You're done with your basic French twist! You can leave it plain as is, but you can also add in a few bobbles to decorate your updo to get into the holiday spirit.
Side Swept Hair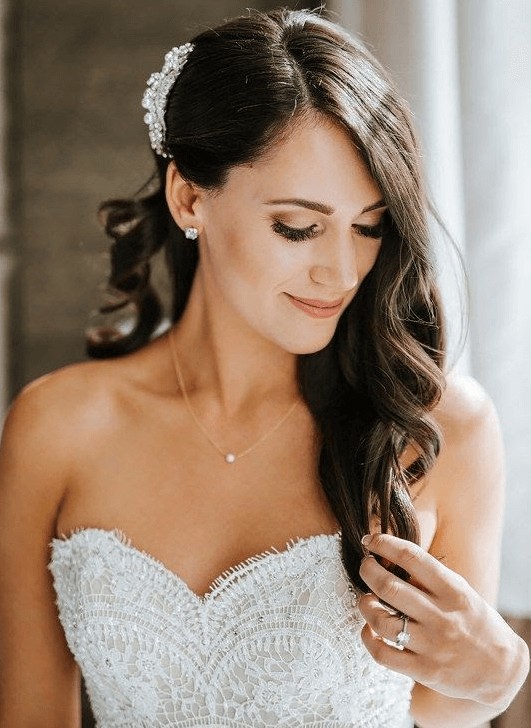 This side-swept hairstyle is probably the easiest to do out of this bunch and looks the simplest, but you can go absolutely crazy with the barrettes! A side-swept hairstyle is another 'do that you can dress up or down. It can go amazingly well with a casual outfit but also be classy and sexy with a formal outfit.
How to do it:
1. Part your hair on one side (the side that parts naturally).
2. Take the thinner side of your parting and pin the hair flat to the side of your head behind your ear.
That's it! It's that easy. But it still looks super chic and frames the face well. You can decorate your side-swept style by putting in some cute barrettes to pin down your hair. You can go simple with it and leave it with only a couple of dainty hairpieces and you can go the extra mile and just line one side of your hair with adorable clips.
Hair Bow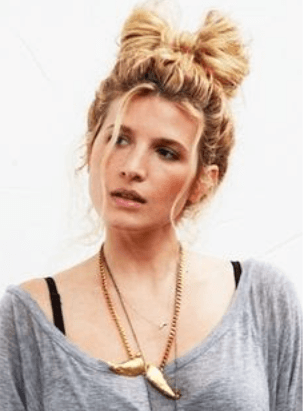 It is the season for gift giving! Why not be the gift? JK. This hairstyle is super fun and fits the holiday vibe so well. It looks like it's intricate but it's actually quite simple to do it! This is a hairstyle that can spice up any plain outfit like a dress or even a cozy sweater. It's an accessory in its own right.
How to do it:
1. Brush your hair upwards and gather a ponytail at the top of your head.
2. Take a thin hair tie and loop your hair through it only once (you can loop it twice, but make sure that the hair tie still has room to tie).
3. On your next loop, don't pull your hair completely through the hair tie. Stop at about halfway through pulling the ponytail and leave it like that.
4. Once your hair looks like a pseudo bun, take the poof on top of your head and part it down the middle to form a "bow" shape.
5. Once you have your bow shape, take a piece of hair that's hanging loose in the back from your ponytail and wrap it around the middle of your bow to form the "ribbon" shape.
6. Start neatening up things and pin down any remaining stray hairs and secure your hair bow into place.
Cindy Lou Braids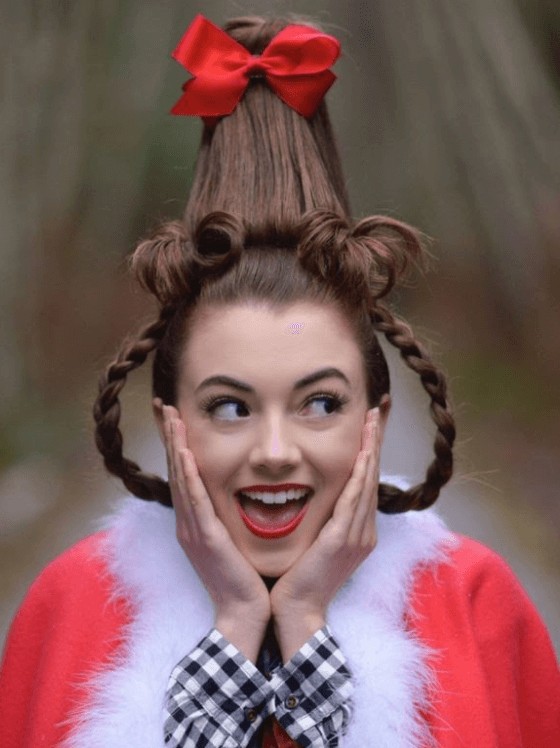 This is probably the most complicated style on this list, but don't let that scare you! We'll be doing a much more simplified version of this that even us hair noobs can do. This style is definitely not for a casual dinner, but more for a fun themed Christmas party where you can dress a little wacky.
How to do it:
1. For the first step, you'll be needing a hair donut or something that can your hair into a nice tall shape. A hair donut would be the best for this. Take a good size section from the top of your head and encase the hair donut within it.
2. Once you have your hair donut inside your hair, tie up the remaining ends. Make the ends into a tiny bun on top of your hair donut. Once you've done this, you'll be left with the illusion of a solid mountain of hair with a teeny tiny bun on top.
3. Next, take the hair left down and part it in the middle.
4. Do a basic three-strand braid to form pigtails and tie off the ends.
5. Next, take the ends of your pigtails and pin them to the top of your head to create two loops around your head.
Finished! It seems incredibly hard to do it when you first see the style, but this version is super easy to do and foolproof. Simply tie off the top of your tiny bun with a red ribbon, pop on some red lipstick, some winged liner, and you're good to go! You're ready to melt all the Grinch hearts out there. Just don't forget to shop your favorite natural hair products in Mayraki, and you're good to go!