5 Vintage Hairstyles You Need to Try
Mar 05, 2021 | By Maria Eliza Pineda
Vintage is back, baby! Polish up your look by trying out these super gorgeous vintage hairstyles that are quick and easy to do.
Modern looks often lean toward the more effortless, natural look like big curls, beachy waves, lots of volume, and artfully messy. These looks are definitely gorgeous in their own way, but sometimes, you just want something that's a little more polished. Vintage hairstyles are the perfect styles to recreate for this because they just ooze sophistication, class, and elegance.
Obviously, not every vintage hairstyle is going to be very wearable in today's age. But there are a few timeless classics that you can still rock and look amazing in. Some vintage hairstyles are also quite intricate and difficult to do. In fact, most people had a lot of help back then (somewhat of a glam team!) that helped them do the complicated styles.
You won't be needing that here! We've compiled the most wearable and easy to do vintage hairstyles that you can totally achieve on your own. No need for any fancy tools or an extra set of hands. All you'll be needing is the most common hairstyling tools and products, and you're good to go. Read on to find out how to achieve each look.
Bumper Bangs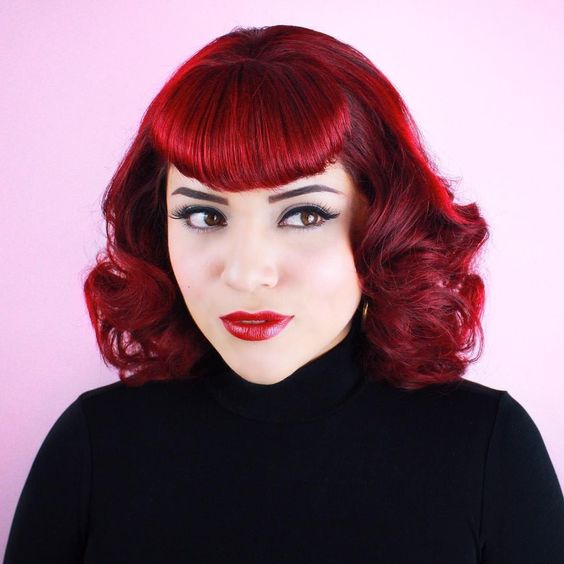 Photo: Pinterest
Bumper bangs are a super cute hairstyle that were popular in the 1940s. This gives off a youthful vibe and fun vibe while still being very classy and sophisticated. One of the easiest hairstyles to do, all you'll need is some bobby pins and a curling iron.
You can either curl your hair, pull it up, or have it straight depending on what kind of look you're going for. However, your bangs will need to be curled so that you can form the roll that you'll be making into your bumper bangs. To do this, take a section at the front of your hair and curl it with a curling iron, making sure to have every strand form into one curl. After that, take your curl and follow its natural pattern and roll toward your forehead to create your bumper bang. All you'll need to do after this is pin everything into place with some bobby pins and form it the way you like!
Victory Rolls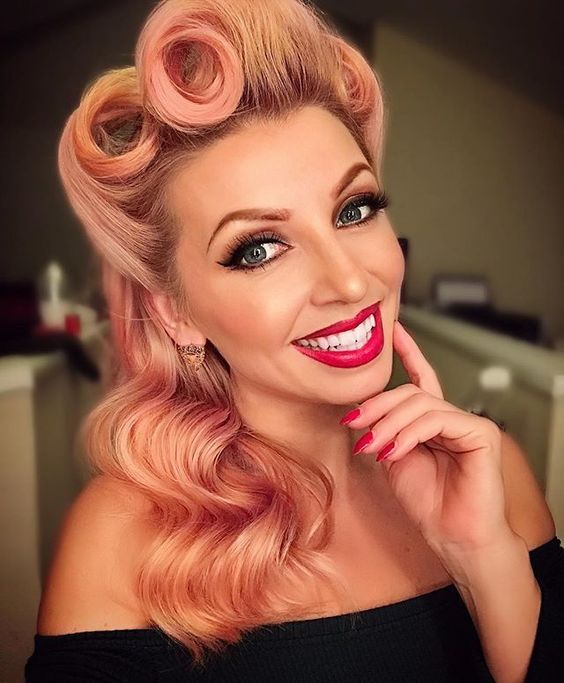 Photo: Pinterest
Victory rolls are another beautiful hairstyle that came from the 1940s era. This is a little bit more of a grown up look than the bumper bangs but still super fun and creative. Victory rolls are elegant and feminine, perfect for a bold look. While it requires just a bit more intricacy, this style is still achievable with only some pins, a curling iron, and hairspray.
To achieve this look, start by curling your hair section by section with a curling iron. Once all curled, grab a few pieces in the front (two or three) and roll them, naturally following the curl pattern that you've created with your iron. Roll the pieces into a thin circle and pin them flat to your head with the ringlet facing out. Arrange them in a way that you like and set everything into place with hairspray.
French Twist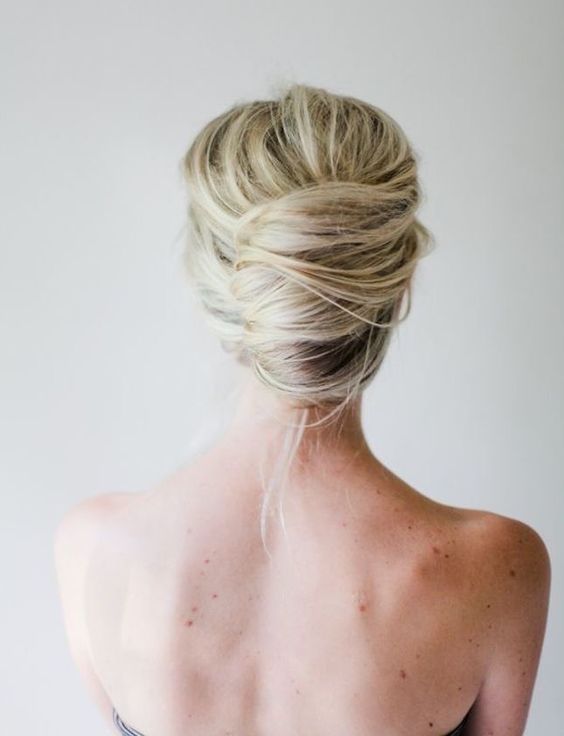 Photo: Pinterest
If you want something that's incredibly elegant and classy, a French twist is a great option. This hairstyle instantly dresses up any outfit and is often worn to formal events because of this. The French twist became very popular in the 1950s and is still worn quite often to this day. It's super simple, but oozes class and sophistication. All you'll need for this is some good old bobby pins.
To do a French twist, start by gathering all your hair into a ponytail at the back of your head. For your part, you can either do a side part or push back your hair with no part. Do not put any ties to secure your ponytail because next, you are going to twist your ponytail but don't do it too tight. After that, tilt your twisted hair so that the ends are pointing up to the ceiling. Then, start sliding your twist down your head with the ends still pointed upwards. Your hair will kind of go into itself and that will create the signature French twist style. Now for the tricky part, hold your hair into place and just start pinning like crazy! Put in lots of pins and keep at it until you're satisfied with the result. Voila! A French twist.
Headband Updo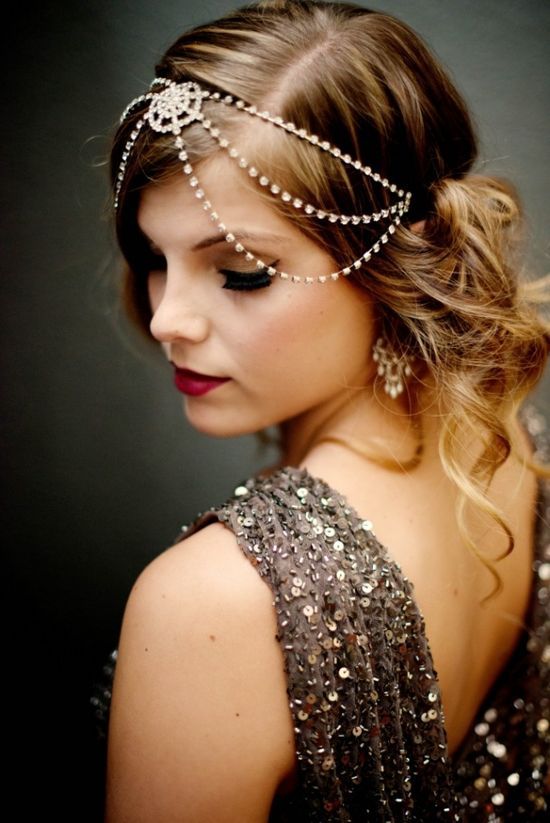 Photo: Pinterest
Let's go back a little further in time and head to the roaring 20s! This hairstyle is very reminiscent of the fun parties back in the flapper era. Perfect for a feminine but dazzling look. You'll be needing a glamorous little headband for this or you can fashion one out of ribbons for a more subtle and wearable look. You'll also need lots of pins and a curling iron.
Start by parting your hair to the side and curling your hair to create some texture and depth. Next, put your hair up in an updo that you prefer. After this, grab your headband and position it the way you like (some prefer it lower down to their forehead and some prefer a higher position further back the hairline). Now, pin it down in place and make sure to hide the ends of the band in your updo.
Pin Curls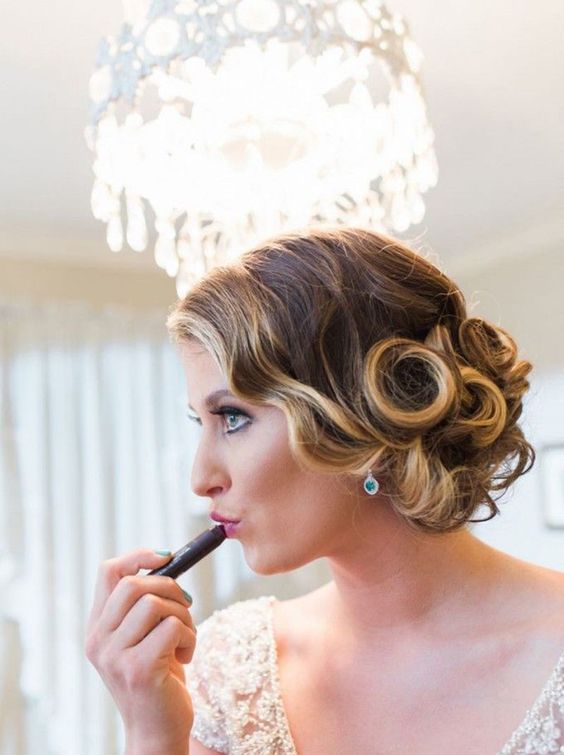 Photo: Pinterest
Pin curls are just some victory rolls but elevated! This hairstyle is still very popular to this day, used in weddings, proms, and other formal events. It's an incredibly classy and feminine updo. People love this style because it's romantic, sophisticated, and more interesting to look at than a plain chignon. It's deceivingly intricate looking but actually quite easy to do. All you'll need is some pins, a curling iron, and hairspray.
Start by parting your hair to the side and sectioning even pieces to curl all around your head. Once you've curled every piece of hair, take your curls, follow the natural pattern of the curl, and roll them into a ring. Pin the rings flat to your head and do this until you've got your whole hair up in an updo. After that, just style with a few tendrils loose at the front and set with hairspray.