Top Beach Hairstyles If You Live in Tropic
Aug 22, 2022 | By Denise V.
You may or may not live in a tropical area, but we're sure you're in search of the best beach hairstyle if you're traveling soon, attending a beach wedding event, or you probably just ran out of ideas on which one to try out this time.
When one goes to the beach, it's all about maximizing your selfies, the beach, the unparalleled beauty of the destination, and making sure your hairstyles are on point as well. If you missed your salon visit before your vacation, you can always try using a hair dye shampoo for a change. This one from Mayraki only takes 40 minutes for the color to set in, and it's also gentle to the hair as well.
Get inspired with these beach hairstyles that are easy to do. Ready? Let's go!
Beach-themed hair clips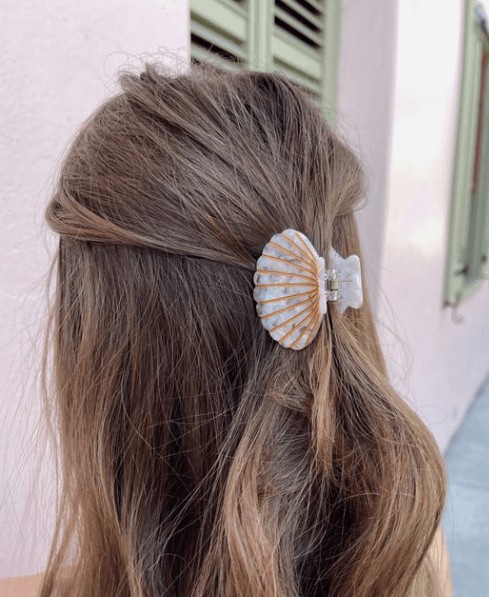 Straight hair, short, curly, wavy hair, listen up. Putting beach-themed hair clips from shell clips to starfish like this one from shopsunhoney.com will definitely look cute on you. You can put on the braids or on either the sides of your hair. So, wear your best beach outfit, clip this on, take a selfie, and you're sure to gain a lot of likes on your socials with your next tropical vacay.
Double dutch pigtails
We may have heard of a double and single French braid, but the double dutch pigtail will help upgrade your look this time. You can braid them all the way to the ends or stop at the half part then tie them with clear elastics.
Here's a simple tutorial from gdhair.com:
https://www.ghdhair.com/us/hairstyles/braid/how-to-hairstyles-double-dutch-braid
1.Part your hair in the center until the bottom of the head, and tie the other side first.
2.At top of another side, create triangle, and section and split in three. This is the same process you do in the French braids.
3.Pass the inner strand under middle strand
4.Pass outer strand under middle strand
5.Add a small amount of hair to strands and pass under again
6.Continue this technique until your desired ends.
This hairstyle is not only for the long-haired individuals but also works well even for shorter hair (blunt bobs)
Beachwaves
This style is called for the right reasons, and that's probably because you should wear one when on the beach. Beachwaves create an illusion of having thick hair and are perfect for those who has a flat and dull hair. If you've been experiencing excessive hair loss lately, use Mayraki's anti hair loss shampoo and kit, and do scalp care from time to time.
While also called the ultimate look of the summer for short or long hair, one should also know how to properly do it.
We suggest you do heatless beach waves. Option 1 would be braiding your hair the night before your beach day, and option 2 would be doing a bun (single or double) and wearing it on your way to the beach. Let your hair down once you arrive.
Braided Faux Undercut
If you want a fun yet edgy beach hairstyle for a change, we recommend you try a side braid, like the ones you see with pro and amateur surfers, and at every music festival too. This style creates an illusion that your other side of the hair is shaved, thus making this a very unique style to do.
To wear this hairstyle screaming summer vibe, here's how:
1.Prep your hair by shampooing and conditioning. You can use a sulfate-free shampoo to retain your hair's natural moisture.
2.Towel dry your hair.
3.Create a deep side parting from the front hairline all the way back to the nape.
4.Taking the section on the opposite side of your part, separate it into three strands. In one hand, hold two strands, and in the other hand, hold the third strand. Create a few rows of a regular braid by crossing the strand on the right over the center, and then cross the strand on the left over the center. Continue using this pattern and begin incorporating more hair.
5.Tie it using a transparent elastic.
Remember that beach hairstyles will depend on your desired look and personality. Don't be afraid to experiment and have fun. Not every day do you get to spend time on the beach, so make the most out of it.
For more hair-related tips and styles, stay tuned to our official website and Facebook page.