5 DIY Hair Mask Tutorials You Can Do at Home
Aug 22, 2022 | By Maria Eliza Pineda
Haircare pamper session at home? Yes, please! Take some time to treat your hair to a spa day and follow these 5 best DIY hair mask tutorials.
We're all spending a lot of time at home these days. Since lockdown started, people have been looking for ways to pass the time at home and keep themselves occupied. From making dalgona coffee to doing at-home haircuts and dye jobs. The latter has since produced many DIY disaster videos that we truly can't get enough of.
If you're tempted to do something with your hair to pass the time, we have an even better suggestion for you! Why not have a spa night and treat your hair with a nourishing hair mask that's not only fun to make, but will also your hair look and feel amazing? Instead of potentially wrecking your hair with DIY haircuts and dyeing, do a project that will improve the health of your hair.
Hair masks are a great way to relax and pamper yourself on a night off. It's also a good way to address certain hair issues depending on the recipe and ingredients that you will use. We've compiled some of the best DIY hair mask tutorials that you can follow and discuss the benefits of each!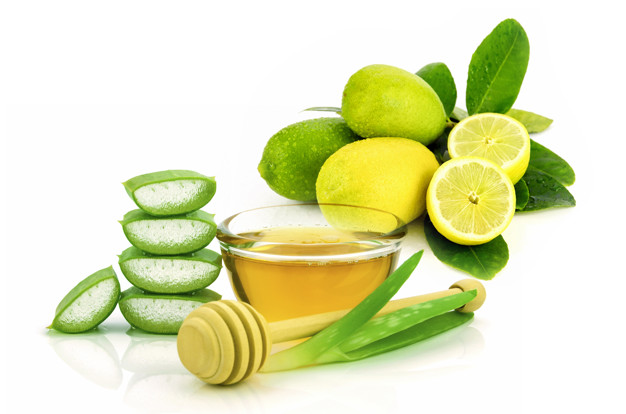 If you have extremely dry hair, this hair mask will be perfect for you. Both honey and olive are powerhouses at moisturization. This hair mask will not only treat your dry strands, but it's also great for a dry and flaky scalp.
Olive oil is rich in vitamins and minerals that nourish the hair to keep strong and healthy. It also contains essential fatty acids that give the hair instant shine and hydration. If you have a naturally oily scalp already, this is something that you'll want to avoid as it is very hydrating and can weigh down your already oily hair. But if you have a drier texture, olive oil is the perfect ingredient to put some moisture back into your locks.
Honey, on the other hand, is both a moisturizer and a natural humectant. This means that it will not only moisturize your hair but it will also keep the moisture in so your hair stays hydrated. As a humectant, it will also attract more natural moisture onto your hair.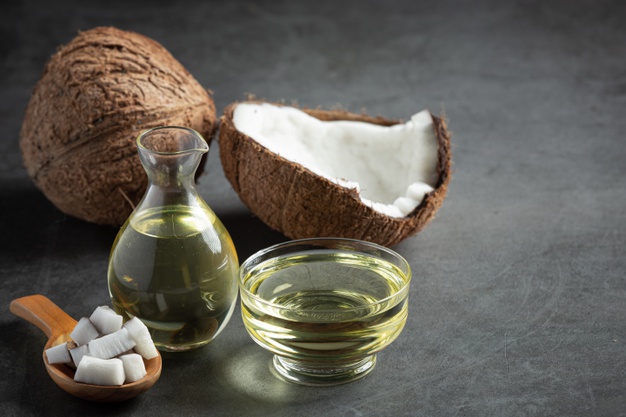 Coconut oil is already famous for its numerous hair benefits. It's used in a ton of hair care products because it's extremely effective at nourishing the hair. On its own and used as a hair mask, coconut oil is equivalent to an intense deep conditioning treatment.
Coconut oil is packed with vitamins and essential fatty acids that will help moisturize the hair and make it grow thicker and healthier. It's effective for repairing damage, lessening sebum buildup, and healing split ends. It reduces protein loss from various types of damage such as heat or environmental damage and keeps your hair strong.
This hair mask is intensely moisturizing so if you have really dry hair, then it's going to be super beneficial for you. However, because it is so intense, be careful to not overdo it and only apply it once every two weeks or so. Your hair should also be washed deeply and thoroughly right after and leave no buildup of oil, so make sure that you do wash it a couple of times with a clarifying shampoo.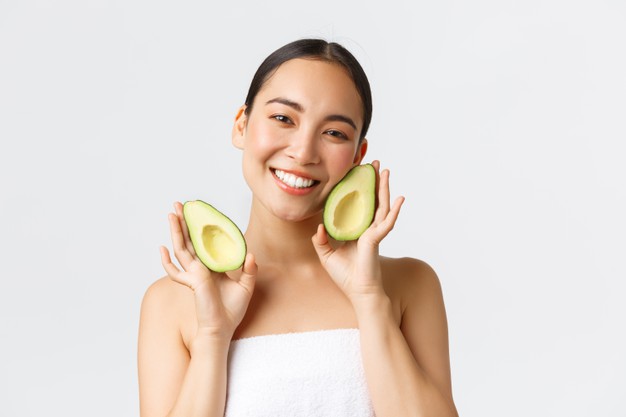 Hair can be dry because of reasons other than lack of moisture. Sometimes, hair can feel dry because it's extremely damaged or it naturally lacks enough protein that it needs to be strong and healthy. In this case, your hair can both be dry and oily at the same time and your hair may be brittle and succumb to breakage and fallout easily. If that is the case for you, an avocado and egg hair mask would suit you.
Avocado is known for being a superfood because has a high amount of protein, fats, minerals, and vitamins. Both the protein and healthy fats will help strengthen and thicken your hair as well as help repair any damage. The vitamins and minerals it contains will also help moisturize and nourish the scalp and strands.
Eggs are also rich in protein. The egg whites contain a significant amount of protein while the egg yolks are packed with vitamins and even contain peptides. The protein in the egg will help give your hair more elasticity and prevent excessive hair fall and the vitamins in the egg yolk help nourish the hair even further. The egg yolk also contains peptides which our body naturally produces but diminishes as we gradually get older. Peptides are used in hair growth serums because of their numerous hair growth properties.
If you're experiencing issues with hair fall and hair thinning, this is the hair mask for you. Regular application once or twice a week will produce visible results.
This banana yogurt hair mask went viral when Priyanka Chopra recommended it in her Beauty Secrets video for Vogue. Rightfully so! This hair mask is also a scalp treatment that's very effective at nourishing both the scalp and hair strands.
Banana contains a high amount of potassium as well as natural oils, zinc, iron, and vitamins A, C, and E, all of which your hair will definitely appreciate. These vitamins will help increase elasticity, repair damage, and lessen split ends and breakage. They also help to moisturize the strands naturally.
Yogurt, on the other hand, contains protein and lactic acids. We already know the numerous benefits of protein for hair, but the lactic acids possess a unique ability to cleanse your scalp and exfoliate dead skin cells. This will improve the health of your scalp and help your hair grow healthier.
If you're experiencing some dandruff or heavy buildup in your scalp, this mask will be perfect for you because of its nourishing and exfoliating properties. For best results, you can go ahead and apply it once or twice a week.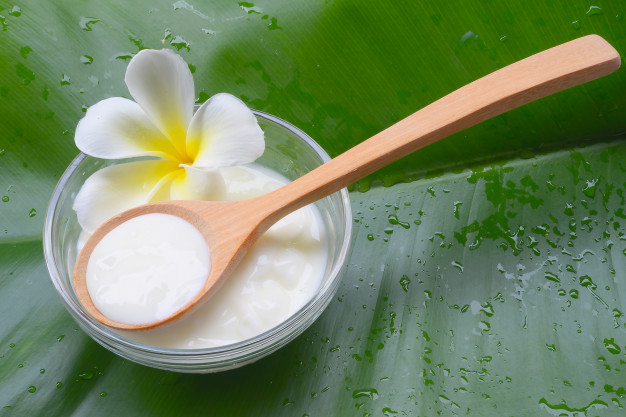 Why not have all the benefits at once? I know what you're thinking: moisturization, scalp cleansing, and hair strengthening all sound amazing! Why not just get them all in one hair mask? It can be good to target specific hair issues once in a while, but if you're looking for that overall treatment, this honey, yogurt, and egg hair mask will work wonders.
This has all the hydrating benefits of honey as a natural moisturizer and humectant, the cleansing powers of the lactic acids in yogurt, and proteins and vitamins from both the yogurt and the egg that stimulate hair growth and strengthen the hair.
Stop Right There!
Put down the hair dye and the kitchen scissors! Grab yourself some of these ingredients from your pantry instead. There are better things for you to be doing to your hair than butchering a dye job or haircut. Try out some of these hair masks instead and your hair will definitely thank you.