How to Get Rid Of Your Split Ends
Jul 21, 2022 | By Justine Ses
Split ends, like breakouts and wrinkles, are one of the great beauty certainties in life. Unless you have a live-in hairstylist who can tend to your needs at all times (dreams), you're almost guaranteed to find a few frayed ends to ruin your mood.
Split ends, if they go untreated, will lead to what most people consider breakage, which is when the hair breaks at a point that makes the strand significantly shorter than the unbroken hair.
But just because the splits are so common, it doesn't mean you have to live with them. The only legit way to get rid of split ends is by cutting them. Because it's 2020, there are ways to cheat the system, and the wonders of the world make it possible to not only prevent frayed ends but also deal before they even pop out.
It's time to put an end to these hair problems once and for all. Introducing Mayraki's Ultra Repairing & Weightless Moisture Shampoo, a sulfate-free anti dandruff shampoo that prevents dryness and split ends while leaving your hair smooth and shiny all day long.
Mayraki Ultra Repair & Weightless Moisture Shampoo combines its latest haircare science with the nourishments of natural ingredients.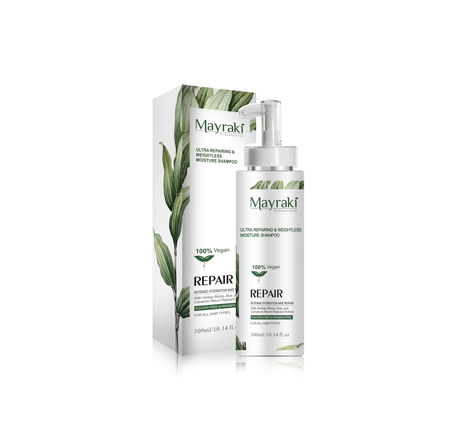 The Shampoo's nourishing formula contains: Aloe Barbadensis Extract, Ginkgo Biloba Leaf Extract, Canarium Album Leaf Extract, Glycine Max (SOYBEAN), Seed Extract, Lilium Candidum Flower Extract, Collagen Amino Acids, Glycerin humectant, Hydrolyzed Wheat Protein, Plant Proteins and multi-nutrition ingredients that instantly smoothen the hair and helps scalp absorb all nutrition.
Directions for use
Massage shampoo on wet hair and create a rich lather and rinse. Repeat if desired.
Nourish, repair and hydrate hair with Mayraki Ultra Repairing & Weightless Moisture Shampoo.
To find out more, visit the Mayraki Professional website or check out our Facebook page. Purchase your own bottle of Mayraki's Ultra Repairing & Weightless Moisture Shampoo here.